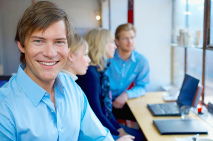 Careers
Looking for something more?
Are you tired of jumping through corporate hoops?
Are you excited about new technology?
Are you self-motivated and like challenges?
Would you like to work for a growing company in a stimulating and fun atmosphere?
If this sounds like you, Netux might be your next job.
We have a relaxed and fun atmosphere with intellectually challenging projects. You can wear jeans, shorts and your favorite computer paraphernalia to work while talking to customers, building code, testing, or whatever skills you are exercising. It takes all kinds of people to do what we do. Netux is an equal opportunity employer.

Or you can fax your resume and cover letter marked to "Human Resources" @ 866-543-1215